From The Editor



Finally! another issue of Eventide to strategically grace the coffee tables of esthetically-minded Americans all across the fruited plain. This installment ventures onward and upward with Nightwatch news, releases, and reviews, as well as our ongoing mission to prompt a question here and there into the essence and purpose of Art and Music. Our editorial focus comes poetically to us from long time friend and ren festival performer (who incidently plays percussion on Owain Phyfe's latest release), one, Rio Blue. It seems that Chile, Rio's childhood homeland, has a very important national tradition and love affair with Poetry. Poets are regarded as a kind of national treasure, their words being the soul and conscience of the populace. It is with that tradition in mind that a recent tequila-inspired, after hours, Texas Ren Fest discussion (Rio Blue and Owain Phyfe, present) begged the question: "America, where are your poets?" Here, dear reader, the heartfelt words of Rio Blue:



"I love this country ...but it worries me.
When you look out your window,
what do you see?
Where are the Quixotes with their pens and swords?
Where are the engineers of dreams
that through time sing to the humble hearts of lonesome lovers?
Who if not you, will steal the tear,
will open the door, will awaken the sigh
and brighten the road?
Listen to the laughter and the cries;
yearn for the touch of the hand
and the whisper of lips.
Feel the beat of only one heart.
IN THE BEGINNING WAS THE WORD...
that was what woke up the poem.

PS: Curve ...Moist ...and Plum
are my favorite words."



---


1991-2000, "The Bardic Adventure Tour" Continues With A New CD From Owain Phyfe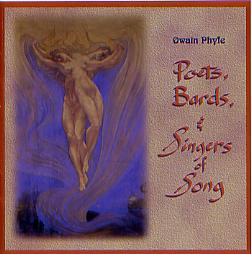 Question: Aside from a fondness for the latest fashion in head bands, what else do Bard Owain Phyfe and Country/Pop artist Willie Nelson have in common? Answer: They both "just can't wait to get on the road again."

For some 10 years now Owain Phyfe has taken his ancient songs of love and adventure right into the trenches of "one on one" performance at many of this fair land's Medieval and Renaissance Festivals. Phyfe, who considers "rekindling the Renaissance Spirit" as his mission in life, has dubbed the road trip: The Bardic Adventure Tour. Our records indicate appearances cross-country, to date, at the following events:
Arizona Renaissance Festival
Bristol Renaissance Faire, WI
Carolina Renaissance Festival, NC
Drachenburg Renaissance Festival, TN
Estrella War, AZ
Festibiere, Chambly, Quebec
Fool's Fest (Lothlorien), IN
Fort Tryon Medieval Faire, NY
Free Spirit Gathering, MD
Great Lakes Medieval Faire, OH
Greater Pittsburgh Renaissance Festival, PA
Italian Renaissance Festival at Vizcaya, FL
Jubilee College Olde English Faire, IL
Kansas City Renaissance Festival, MO
Kent State Folk Festival, OH
King Richard's Faire, MA
Kyng's Company Renaissance Fayre, OH
Maryland Renaissance Festival

&nbsp&nbsp&nbsp&nbsp&nbsp&nbsp
Michigan Renaissance Festival
Mountain Rose Folk Festival, OH
New York Renaissance Festival
Ohio Renaissance Festival
Pennsic War, PA
Pennsylvania Renaissance Faire
Return to Avalon, WI
Ravenhearst Medieval Fantasy Faire, KY
Scarborough Faire, TX
Shakespeare Oxford Society Conference, San Francisco, CA
Sheldon Auditorium Concert Series, St. Louis, MO
Silver Leaf Renaissance Faire, MI
Sterling Renaissance Festival, NY
Stronghold's Olde English Faire, IL
Tennessee Renaissance Festival
Texas Renaissance Festival
Virginia Renaissance Faire
Ye Merrie Greenwood Faire, WA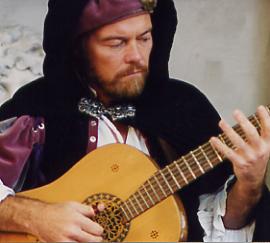 This year, outstandingly, was witness to a crowning moment in The Bardic Adventure Tour: the release of a new CD from Owain Phyfe.

September 4, 1999 - Holly, Michigan - Nestled in a glade of Ash, Elm, and Pine trees on a quiet hill in the far corner of The Michigan Renaissance Festival lies The Jewel Stage, performance home of vocalist Owain Phyfe and fellow member musicians of The New World Renaissance Band. Here, amid the tree-screened autumnal sunlight, friends and fans gathered in celebration of the formal debut of Owain Phyfe's Poets, Bards, & Singers of Song, a new recording featuring Renderings of Ancient Plainsong, Folksong, and Artsong.


Michigan Renaissance Festival Sovereign, Her Royal Majesty Queen Eleanor, anointed the event by Royal Decree, "It is by my will that the greatest of music shall be presented. It is only appropriate that Sir Owain, a knight by mine own hand, should debut his newest music in our fair realm. Throughout [our village of] Hollygrove I shall carry with me this special province which Owain has brought and with all a health to the company who enjoy his music."


September 19, The Detroit Free Press presented its take on the latest Nightwatch Recording release selecting it to be highlighted in review as The Detroit Disc:

"The instruments of Renaissance music are as exotic as the languages in which the
songs are sung: chitarra battente, bass viola da gamba, vihuela, cornetto; ancient
French, middle English, Latin, Ladino. ...singer-scholar-musician Owain Phyfe
and his accompanists somehow make it all seem welcoming and familiar. Must be
the kind of magic that Phyfe salutes in his introductory words about the mystic
moods of twilight. This is mellow music, mostly about love, the sort of stuff they play
while you're buying candles in gift shops up north. In an automobile, it also makes
an ideal vaccine against road rage; new vehicles should come with a Phyfe
recording as standard equipment." ---Martin Kohn, Detroit Free Press staff writer



Phyfe, who refers to himself as "a kind of song prospector" (digging up buried treasure in the form of songs), outlined the new CD vocal collection as consisting of "twelve poetic favorites which span a time period of some six centuries and originate from at least that many cultures across Europe." Lyrics and translations are contained in the CD booklet along with some personal notes from Phyfe recounting historical perspective and his own thoughts on each of the songs. Here's the playlist:




1. ...special province... (0:17)
(Introduction)

2. Ja Nus Hons Pris (4:29)
Richard The Lion Heart, 12th Century

3. Fa La La Lan (3:26)
Anon., 15th Century, Lyrics attributed to Juan Del Encina

4. Worldes Blis (2:05)
Anon., 13th Century, England

5. El Rey De Francia (6:28)
Traditional Sephardic

6. L'Amor Dona Ch'io Te Porto (2:37)
Anon., 16th Century, Italian

7. O Che Diletto (3:20)
Giovanni Gastoldi, 16th Century, Italy


&nbsp&nbsp&nbsp&nbsp&nbsp&nbsp
8. My Fate (3:45)
Poem by Abraham Cowley, set by William King, 17th Century, England

9. Pucelete (1:52)
Anon., 13th Century, French

10. Una Matika (4:49)
Traditional Sephardic, Bosnia

11. Mes Pas Semez (3:46)
Adrian Le Roy, 1555, France

12. Alle, Psallite Cum Luya (1:21)
Anon., 13th Century French Motet, Latin text

13. A Health To The Company (5:23)
Traditional Irish
Our recommendation, gentle reader: if the Renaissance spirit has taken root in your life, Poets, Bards, & Singers of Song by Owain Phyfe will be certain to help it grow. &nbsp In the meantime ...across this fair land ...wherever there are songs to be sung and chivalrous deeds to be done...The Bardic Adventure Tour continues ...coming soon to a festival near you.
---


Who Is Jean Delville?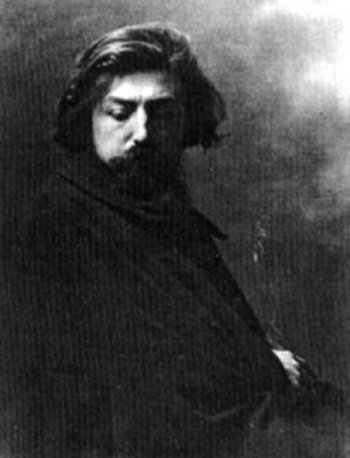 No, he's not a member of The New World Renaissance Band, nor is he even a musician. Yet, Jean Delville is notably celebrated at Nightwatch Recording. How so?
Twice, now, the paintings of Monsieur Delville have been selected to grace the covers of Nightwatch Recording CD's; first, with Sweet Was The Song (Cover painting: Orpheus, 1893), and most recently, with the release of Owain Phyfe's new compact disc, Poets, Bards, & Singers of Song (Cover painting: Soul Love, 1900).

The Belgian Symbolist painter and writer Jean Delville (1867 - 1953) is generally refered to as a mystic, an idealist, and an occultist who sought, through his words and paintings to revive the ancient traditions of the Cabbala, Magic, and Alchemy. He was the founder of the Salon d'Art Idealiste, the Belgian equivalent to the Rose & Cross Salon in Paris and the Pre-Raphaelite movement in London. Among his poetry and other literary works is La Mission de l'Art (1900) in which he wrote extensively about the nature and purpose of Art, viewing it as a catalyst for the uplifting of mankind. He saw the true artist more in the likeness of a spiritual teacher or prophet: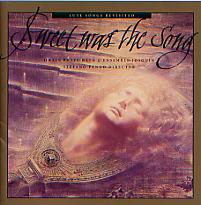 It is necessary to speak clearly and precisely of the civilizing mission of art...
It is also necessary to speak of the moral effect which a work of art produces
on people, on the public, the moralizing strength of Art, [which is] more salutary,
more pacifying than that of Politics." (La Mission de l'Art, p. 88, translation:
Jeffery Howe)



Owain Phyfe, former student at L'Ecole Superiere des Beaux Arts in Paris, France, characterized his decision, in this way, to choose the two Delville paintings as CD cover art: "First of all, I love the process of putting a face on our music. I found myself drawn to Jean Delville's paintings, one, for their clarity in style, and two, for their spiritual poetry in content, attributes which I hope the listener likewise finds in our music."



Owain Phyfe/ Stefano Pando CD, Sweet was the Song - Lutesongs Revisited, cover painting: Jean Delville's Orpheus, 1893

---

----Dear Nightwatch----

In the last issue of Eventide (#3, winter '98) we presented the article "Did You Think Conspiracy Was A New Concept?" reporting on the 1998 annual conference of the Shakespeare Oxford Society held at the Clift Hotel in San Francisco. (Nightwatch Recording artists Owain Phyfe and Sasha Raykov provided music for the event.) It remains the society's core belief that it was, in fact, Edward deVere, Earl of Oxford, and not William Shakespeare of Stratford, who wielded the pen responsible for William Shakespeare's plays and poetry. Inevitably, there were differing reactions from our readers. Voila, the responses:

First: from long time Nightwatch Recording friend, master actor, Duncan Inches (of the William Shakespeare Road Company) a.k.a. Will Shakespeare himself:

I enjoyed your article on the new Cantiga release. BUT, stopped quite short on "Conspiracy." So, Owain & Sasha are performing for the enemy camp, eh? : )
Conspiracy theories are sometimes interesting, but fall short on motivation, then, crash & burn on proof.

Most important: WHY?... is there any need for so elaborate a deception? Elizabeth? She supported not only theatre, but commissioned W. S. on numerous occasions: "12th Night," etc. Many a noble (including Elizabeth) wrote poetry, fiction & plays without censure.

Nobility? London was not a major city. It was basically small; an agrarian, maritime town ... a collection of villages. Everybody rubbed butts, socialized at the same pubs and theatres, knew each other by first names... Stratford, even smaller was more chummy.

Books? No one knows. Whether he owned or merely read, most scholars believe he had access to volumes.

Education? Perhaps, young W.S. was an average to good student at the best little school house in England, New King's School at Stratford ... better than Eaton. One pundit said: "more complete than Oxford or Cambridge, today. And, since when has genius ever tolerated formal education, or anything formal? Hasn't such a gift run, by definition, against stifling rigid discipline?

AND WHAT ABOUT BEN JOHNSON? How would you have kept his mouth shut? Of W.S.: he "wrote without blotting a line", etc., etc... or, Robert Greene, or any of the in & knowing crowd 'round & about theatre (known for inabilities to keep secrets)? ...and this one kept for over 400 years?

These outline-like jottings are just a few reactions to any anti-Stratfordians, particularly, to Oxfordians. Closest in talent, closest in ability might have been Kit Marlowe ... maybe.

Duncan Inches, Dewitt, NY

Duncan Inches is widely known for his performances as William Shakespeare at festivals and universities, on television, in theatres, and even for U.S. Presidents. For more information contact the William Shakespeare Road Company, 4465 E. Genessee St., Box 101, Dewitt, NY 13214 / (315)424-WILL.
---------------------------------------------------------------
Next: from another Nightwatch friend, Randall Sherman, President of the Horatio Society (advocates of the Oxfordian cause):

Three Huzzah's for your coverage of the Shakespeare authorship controversy--surely one of the most unsettling yet intriguing subjects of the 16th century. Doubtlessly, there will be some of your readers who will be offended by such a radical challenge to orthodox history, but for those who will take the time to investigate it, most will find a provocative and logical explanation to the anomalies of 'Stratford man.' To this end, I would like to point out that the evidence keeps mounting in favor of the Oxford theory. Both TIME and Newsweek picked up on this last March (1999) and Harper's dedicated its entire April (1999) issue to examining the pro's and con's of the theory (the editor privately conceded that the Oxfordians won). Every month, there is a new discovery in the literature and history of the period which supports the Oxford view while the Stratford theory invariably clings to age-old arguments and tradition. However, if your readers want to investigate this for themselves--and I guarantee that they will never view this subject the same again--please direct them to www.shakespeare-oxford.com/

Randall Sherman, San Francisco, CA

more info, contact: Shakespeare-Oxford Society, P.O. Box 263, Somerville, MA 02143
Back to Eventide Directory| Back to the Nightwatch Recording Homepage