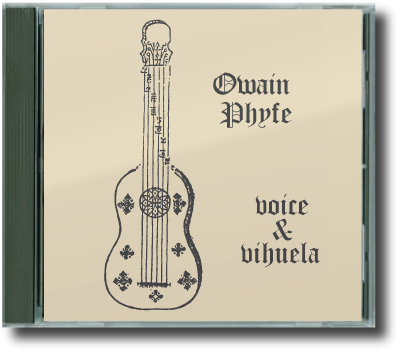 Available on CD and for digital download!

Get it HERE
Recorded twenty-five years ago, Voice & Vihuela is the once "lost" first album of Owain Phyfe. The album features his earliest recordings—from the period in which he was transitioning from modern life as an automotive engineer to that of a full-time performer of ancient song.
An ambitious album, culling music from more than eight Old World regions and spanning 500 years, it reveals most intimately the passionate craft of a truly gifted performer. As its title suggests, Voice & Vihuela features only the solo vocal and instrument of Owain Phyfe. The album itself bears no production embellishments or crowded instrumentation, making it the most raw of any Phyfe album.
"It has been an emotional and magical experience unearthing this gem from the Nightwatch Recording audio vault. We are overjoyed to see this beautiful recording now returned to the light! It allows long-time fans a chance to witness Phyfe's artistry anew, and contributes distinctively to an already compelling catalog of ancient music." ~Barak Phyfe, Nightwatch Recording
Voice & Vihuela is one of the finest showcases of ancient music, presented freshly for modern generations by a true BARD FOR THE AGES!